RELATED SITES
-
-
-
-
-
-
---
Buy My Stuff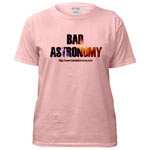 Keep Bad Astronomy close to your heart, and help make me filthy rich. Hey, it's either this or one of those really irritating PayPal donation buttons here.
---
---
Sixth Rock from the Sun
(October 16, 1997)
Sometimes it doesn't pay to be cute. CNN.com has a personalized news service, and on it yesterday was this article and headline:

Sciences:Astronomy & Space

Some Facts about the Sixth Rock from the Sun

AP
15-OCT-97

NASA's top space scientist, Wesley Huntress Jr., calls the ringed Saturn "the most beautiful planet in the solar system outside of our own"

Some facts about the sixth rock from the sun: Second-largest planet in solar system, after Jupiter, with equatorial diameter of nearly 75,000 miles, almost 10 times that of Earth.

[...]

Composed mostly of hydrogen and helium gases, its density is so low that [the] planet would float in an Earth ocean if [the] ocean were big enough.

While Saturn is indeed the sixth planet from the Sun, calling it a "rock" is a stretch. The majority of Saturn is atmosphere, with only a smallish core of rock and metal. Oddly, the article goes on to say that Saturn is mostly gas! This is maybe a small nit, but it reminded me of another news gaffe, quoted below, calling Mars the third rock from the Sun. Oddly, NBC was not involved either time! Thanks to Bad Reader Tim McKnight for sending me the quote and alerting me to this!
---

©2008 Phil Plait. All Rights Reserved.
This page last modified
THE BIRDCAGE: ARCHIVE OF OTHER BAD NEWS ITEMS
<!- END GOOGLE ADSENSE-->
---