RELATED SITES
-
-
-
-
-
-
---
Buy My Stuff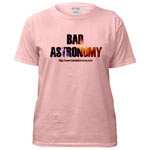 Keep Bad Astronomy close to your heart, and help make me filthy rich. Hey, it's either this or one of those really irritating PayPal donation buttons here.
---
---
Third Rock from the Sun
As of this writing (12/2/96), NASA plans to launch a Mars probe (the Mars Pathfinder) tomorrow morning. Over the weekend, the local Washington DC ABC affiliate (WJLA, channel 7) newscaster introduced the report with this teaser: "NASA is gearing up to explore the third rock from the Sun this week..."

Hey, I can do that from here! Just look down. Mars is the fourth planet from the Sun. Oddly, the TV show "Third Rock from the Sun" is on NBC, not ABC. Maybe she shouldn't have brought it up at all...
---

©2008 Phil Plait. All Rights Reserved.
This page last modified
THE BIRDCAGE: ARCHIVE OF OTHER BAD NEWS ITEMS
<!- END GOOGLE ADSENSE-->
---