RELATED SITES
-
-
-
-
-
-
---
Buy My Stuff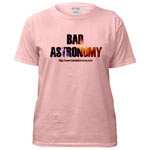 Keep Bad Astronomy close to your heart, and help make me filthy rich. Hey, it's either this or one of those really irritating PayPal donation buttons here.
---
---
Flushed with Pride
May 1, 1998:
Matt Lauer is at it again. The anchorman is in Australia, for a special edition of NBC's ``The Today Show''. He commented this morning that since he is south of the Equator, the toilets flush in the opposite direction! Perhaps he read that in Sports Illustrated, but for sure he never read my web page about it! Bad Reader Keith Harwood from Down Under informs me that the situation is even worse than I thought: many toilets in Australia don't swirl at all! They flush the water straight down. I expect NBC to report now that Australia is close to the poles now... ;-)
---

©2008 Phil Plait. All Rights Reserved.
This page last modified
THE BIRDCAGE: ARCHIVE OF OTHER BAD NEWS ITEMS
<!- END GOOGLE ADSENSE-->
---