RELATED SITES
-
-
-
-
-
-
---
Buy My Stuff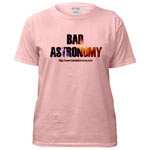 Keep Bad Astronomy close to your heart, and help make me filthy rich. Hey, it's either this or one of those really irritating PayPal donation buttons here.
---
---
Sex Sells Bad Astronomy!
April 17, 1998
I got an email from a Bad Reader the other day asking if I had seen the swimsuit issue of the magazine ``Sports Illustrated''. Being a married type guy and I answered ``no''. Luckily, I found a single issue at a nearby convenience store. It turns out this year's fashion shoot was done at different places along the Equator, and the lead column is a lighthearted description of the Equator. At one point the author says you can tell you are near the Equator because the toilet flushes one way, and if you travel a bit south it flushes the other way. At that point the author crossed over from swimsuit enthusiast to proliferator of Bad Astronomy. He should have read my web page about the Coriolis effect! Then he would have known that the effect is only noticeable over large distances. But then, I don't imagine anyway who buys the SI swimsuit issue bothers to read the text much (and if they do, it's certainly not to glean any science info from it!).
---

©2008 Phil Plait. All Rights Reserved.
This page last modified
THE BIRDCAGE: ARCHIVE OF OTHER BAD NEWS ITEMS
<!- END GOOGLE ADSENSE-->
---