RELATED SITES
-
-
-
-
-
-
---
Buy My Stuff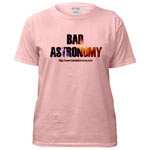 Keep Bad Astronomy close to your heart, and help make me filthy rich. Hey, it's either this or one of those really irritating PayPal donation buttons here.
---
---
FORE!
October 6, 1998:
Recently (July 12), a man was out golfing when a meteor the size of a baseball shot past his left ear and hit the ground (fore!). As has been pointed out countless times on these web pages, small meteors are actually traveling slowly when they hit the ground. So why did the St. Louis Post-Dispatch (quoting from Reuters) say that this meteor was "estimated to be moving at about 12.4 miles per second"? Another source had it as 124 miles per hour, which is probably correct (it sounds like someone converted kilometers to miles here, though, since 124 mph is 200 kph). I guess an editor thought the lower number was too slow for a meteor to travel and changed "hour" to "second". They must have watched "Armageddon" too many times.
Thanks to Bad Reader Charles Dana for sending me the article!
---

©2008 Phil Plait. All Rights Reserved.
This page last modified
---

©2008 Phil Plait. All Rights Reserved.
THE BIRDCAGE: ARCHIVE OF OTHER BAD NEWS ITEMS
<!- END GOOGLE ADSENSE-->
---