RELATED SITES
-
-
-
-
-
-
---
Buy My Stuff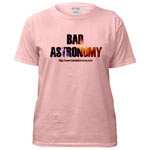 Keep Bad Astronomy close to your heart, and help make me filthy rich. Hey, it's either this or one of those really irritating PayPal donation buttons here.
---
---
The Bad Astronomy Newsletter
After about a thousand emails asking me for this, I have decided (finally) to begin a Bad Astronomy newsletter. It will contain website updates, news, dates and locations of any public appearances I'll be making, etc. It will also have information about my book (due out mid-to-late-March at fine bookstores everywhere). The newsletter is generated through the Yahoo!Groups website. It's easy and free to join (and it's also easy to unsubscribe, though I have no idea why you'd want to do that). You can click on this fancy button:

Click to subscribe to the Bad Astronomy newsletter!
or put your email address into this form:
I will NOT use your email address for anything else other than to email you this newsletter. I loathe spam, and assure you I will have no part in it.
The first actual newsletter was sent on January 17, 2002. You can read it here on my site to give you an idea of what it looks like. However, to get following issues you must sign up. Give it a shot!
---

©2008 Phil Plait. All Rights Reserved.
This page last modified
<!- END GOOGLE ADSENSE-->
---
---