RELATED SITES
-
-
-
-
-
-
---
Buy My Stuff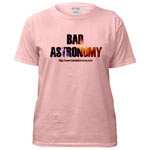 Keep Bad Astronomy close to your heart, and help make me filthy rich. Hey, it's either this or one of those really irritating PayPal donation buttons here.
---
---
Why do tides pile up on *BOTH* sides of the Earth?
Date: Sat Jul 19 19:30:11 1997
Posted by Chris Martin
Grade level: other
School: No school entered.
City: Bristol State/Province: No state entered.
Country: England
Area of science: Physics
ID: 869358611.Ph
---
Message:
If the moon's gravity pulls the oceans towards it, why doesn't the water simply pile up on that side, making the sea shallower on the far side of the Earth?
---
This is avery common question. So common, in fact, that I wrote up a web page answering it. The address for that page is www.badastronomy.com/bad/misc/tides.html. Try reading that page!
---

©2008 Phil Plait. All Rights Reserved.
This page last modified
<!- END GOOGLE ADSENSE-->
MADSCI Q&A
---
Q&A 1996
---
Q&A 1997
---
Q&A 1998
---
Q&A 1999
---
Q&A 2000
---
---
---