RELATED SITES
-
-
-
-
-
-
---
Buy My Stuff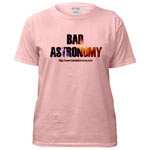 Keep Bad Astronomy close to your heart, and help make me filthy rich. Hey, it's either this or one of those really irritating PayPal donation buttons here.
---
---
At what temperature does paper burn?
Date: Wed Jul 16 22:53:41 1997
Posted by Alwin Marc Ventura
Grade level: 7-9
School: Piscataway HS
City: Piscataway State/Province: NJ
Country: USA
Area of science: Earth Sciences
ID: 869111621.Es
---
Message:
At what temperature does paper burn?
---
When the author Ray Bradbury was writing a book about a future society which had banned books and enforced this ban by burning them, he decided to name the book after the burning point of paper. I have heard he called lots of scientist friends, but none could tell him at what temperature paper burned. With a flash of insight, he called the local fire department. Without hesitating, the fireman said "451 degrees". Bradbury named the book "Fahrenheit 451".
---

©2008 Phil Plait. All Rights Reserved.
This page last modified
<!- END GOOGLE ADSENSE-->
MADSCI Q&A
---
Q&A 1996
---
Q&A 1997
---
Q&A 1998
---
Q&A 1999
---
Q&A 2000
---
---
---