RELATED SITES
-
-
-
-
-
-
---
Buy My Stuff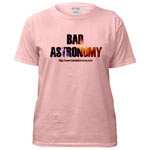 Keep Bad Astronomy close to your heart, and help make me filthy rich. Hey, it's either this or one of those really irritating PayPal donation buttons here.
---
---
Parsecs
Date: Mon Nov 25 04:11:39 1996
Posted by: PIETER MASTBERGEN
Grade level: other
School/Organization: -
City: Amsterdam State/Province: N.Holland
Country: the Netherlands
Area of science: Astronomy
Message ID: 848916699.As
---
Message:
DEAR SIR, A PARSEC=3,26 LIGHTYEARS, I KNOW, BUT HOW DO THEY COME TO THAT NAME PARSEC AND WHY IS IT JUST SUCH A DIFFICULT NUMBER : 3,26 INSTEAD OF (FOR EXAMPLE) 10 LIGHTYEARS. AMSTERDAM,25 NOV., MY FIRST ACQUAINTANCE WITH YOUR INTERRESTING SITE! GREETINGS FROM PIETER MASTBERGEN
---
The name "parsec" is indeed a distance of 3.26 light years. The definition is not arbitrary. It depends on the size of the Earth's orbit!

First off, we need to know about "parallax". This means the change in the apparent position of an object when your position changes. A great example is easy to show: hold a thumb up in front of your face, about 20 centimeters away. Close your left eye, and move your thumb so that while looking through your right eye it is lined up with some distant object like a tree. Now close your right eye and look at your thumb through your left eye. See how it no longer lines up with the tree? That's because the angle formed by your eye, your thumb and the tree has changed. That angle is called the parallax angle, and it depends on two things: how far apart your eyes are (the baseline), and how far away your thumb is. If your eyes are really far apart, the angle gets bigger. If the thumb is held farther away, the angle gets smaller. When you are in a car and you look at trees nearby, they appear to race past you. Far away trees appear to move slowly. This is because for the nearby trees the parallax angle is large and so it changes rapidly if the car moves a little bit. Trees farther away appear to change less as the car moves along. Their parallax angle is small.

This parallax method has been used for over a hundred years to find the distances to nearby stars. The Earth has an orbit about 300 million kilometers across. That's a long baseline! Even nearby stars will appear to change position due to parallax when you have such a long baseline.

Astronomers needed some sort of unit to measure this change in position. What they decided was to make a standard distance unit. A star at this distance would change position by 1 arcsecond due to parallax. This distance is 3.26 light years, and is abbreviated parsec for parallax second (one arcsecond is 1/3600 of a degree; the full Moon is 1800 arsceconds across).

Stars farther away than one parsec would shift by less than 1 arcsecond, and closer stars by more. The nearest star to the Sun is Proxima Centauri, which is about 4.3 light years away, or 1.3 parsecs away. That means that even the closest star has a parallax less than an arcsecond. Stars out to a distance of about 100 parsecs have had their distance measured this way. To imagine how small a shift that really is, imagine someone standing 200 kilometers away from you and then moving to the left by one centimeter. That is the same shift!

For more info on parallax, try this link to a definition

Here is a link describing Hipparcos, a European satellite designed to measure parallax far more precisely than has ever been done before.
---

©2008 Phil Plait. All Rights Reserved.
This page last modified
<!- END GOOGLE ADSENSE-->
MADSCI Q&A
---
Q&A 1996
---
Q&A 1997
---
Q&A 1998
---
Q&A 1999
---
Q&A 2000
---
---
---