RELATED SITES
-
-
-
-
-
-
---
Buy My Stuff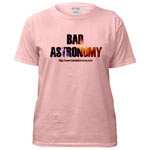 Keep Bad Astronomy close to your heart, and help make me filthy rich. Hey, it's either this or one of those really irritating PayPal donation buttons here.
---
---
I'm a SINner!
HST images of SN1987A
As part of the SINS project, many images of supernova 1987A have been made with the Hubble Space Telescope.

More images have been taken, and maybe someday I will install them here. In the meantime, check out Bill Arnett's SN87A page .
---

©2008 Phil Plait. All Rights Reserved.
This page last modified
<!- END GOOGLE ADSENSE-->