RELATED SITES
-
-
-
-
-
-
---
Buy My Stuff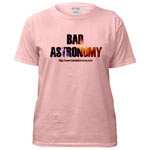 Keep Bad Astronomy close to your heart, and help make me filthy rich. Hey, it's either this or one of those really irritating PayPal donation buttons here.
---
---
More Bad News related to the Hubble images
(May 14, 1997)
More Bad News related to the Hubble images (Before I start, I should say that WFPC2, STIS and NICMOS are all cameras on board the Hubble Space Telescope):
The local NBC affiliate and the newspaper USA Today made the same error: they said that STIS took new images of Supernova 1987A, but then they both showed the old WFPC2 images from 1995! The WFPC2 image was put on the STIS press release to indicate just what the supernova looks like in an image and to show just where STIS was pointing. Evidently neither organization read the caption which says exactly what is on the picture.

Incidentally, the national ABC broadcast implied that the WFPC2 image of the Orion Nebula was somehow blurry, and it took the new NICMOS images to see it clearly. That is misleading; WFPC2 is not designed to see through interstellar dust and gas, while NICMOS is. The WFPC2 image doesn't look fuzzy because it is screwed up; it's fuzzy because the nebula is fuzzy!
---

©2008 Phil Plait. All Rights Reserved.
This page last modified
THE BIRDCAGE: ARCHIVE OF OTHER BAD NEWS ITEMS
<!- END GOOGLE ADSENSE-->
---