RELATED SITES
-
-
-
-
-
-
---
Buy My Stuff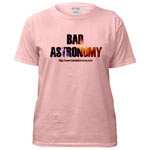 Keep Bad Astronomy close to your heart, and help make me filthy rich. Hey, it's either this or one of those really irritating PayPal donation buttons here.
---
---
When the Sun Hits Your Eye Like an Uno's Pizza Pie
August 2, 2000
When I taught introductory astronomy at the University of Virginia, I quickly learned that writing tests was hard, probably harder than taking them. Any wiggle room in a question left for a student meant an argument later over why I graded it wrong. I had one student argue with me for 45 minutes about wind speed on Saturn! After that, I was very careful about phrasing the questions so that they were unambiguous, and that my answer was the only one that was correct.
Not everyone is so careful. ABC had a quiz that was wrong, and other website do too. Not only that, but some restaurants put quizzes on their placemats, ostensibly to teach kids. I applaud such an effort, of course, but I wish they could all be accurate.
Such is not the case. At an Unos Restaurant in Orlando, Florida, Bad Reader Jeff Thomas found a kid's quiz on his placemat, with the following question: ``Can you name 10 planets in our solar system?'' Puzzled, knowing that there are only nine known planets in the Solar System, Jeff checked the answer, printed upside-down on the mat: ``Mercury, Venus, Mars, Jupiter, Saturn, Uranus, Neptune, Pluto, Earth, Sun.''
Now, there may be no hard-and-fast definition of what a planet is, but the Sun certainly isn't one of them! It's a star, not a planet. Some people might argue that Pluto is not a planet (and I might be one of them), and some might argue that the Moon might possibly be considered as a planet in its own right (and I am not one of them), but no matter how you slice it, we only know of at most nine planets in the solar system.
I like Uno's pizza, and I am happy they tried to do something educational. I just hope that kids reading that placemat don't take their pie-in-the-sky ideas to heart.
Thanks to Bad Reader Jeff Thomas for fighting the good fight!
---

©2008 Phil Plait. All Rights Reserved.
This page last modified
THE BIRDCAGE: ARCHIVE OF OTHER BAD NEWS ITEMS
<!- END GOOGLE ADSENSE-->
---