RELATED SITES
-
-
-
-
-
-
---
Buy My Stuff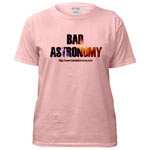 Keep Bad Astronomy close to your heart, and help make me filthy rich. Hey, it's either this or one of those really irritating PayPal donation buttons here.
---
---
Solar Storms
There is a news feed that gets sent out over the internet via the newsgroups on Usenet. This report about sunspots was sent over a science newsgroup.

PASADENA, Calif. (Reuters) -
Seemingly random power outages that have long perplexed electric utility and telecommunications companies now appear to be caused by bursts of magnetic power sent off from the sun, a group of scientists said Thursday. The so-called "solar storms" occure [sic] when black holes in the sun explode, sending off enough of a current to disrupt the earth's own magnetic field, according to the researchers at the National Aeronautics and Space Administration (NASA) Jet Propulstion [sic] Laboratory.

Somehow I doubt that JPL scientists would get sunspots and black holes mixed up. If black holes were inside the Sun, and they were exploding, we'd be hearing about it a lot more!
---

©2008 Phil Plait. All Rights Reserved.
This page last modified
THE BIRDCAGE: ARCHIVE OF OTHER BAD NEWS ITEMS
<!- END GOOGLE ADSENSE-->
---