RELATED SITES
-
-
-
-
-
-
---
Buy My Stuff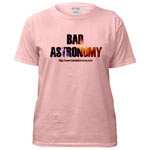 Keep Bad Astronomy close to your heart, and help make me filthy rich. Hey, it's either this or one of those really irritating PayPal donation buttons here.
---
---
Weather Satellites
(May 2, 1997)
This one isn't so Bad, it's more like a minor booboo. The Weather Channel has an extensive set of useful web pages. One of their pages has current U.S. weather maps on it. They have this blurb about satellites:

"U.S. Satellite Pictures -- National and Regional
View the clouds in the sky from the other side, satellites located thousands of feet above the Earth."

Technically, they are correct. Weather satellites are usually at an altitude of about 23,000 miles (sigh: 37,000 kilometers). This gives them an orbit that takes just 23 hours 56 minutes to complete. Since this is the time it takes the Earth to rotate once, the satellites seem to hover over one spot of the Earth, which in turn means they can see the same spot all the time. This has obvious advantages for a weather satellite. So they really are thousands of feet high, they are just a hundred thousand thousand feet high!

Thanks to Bad Reader Steve Czarnecki for pointing this one out, and to William Hathaway for pointing out a small error in my original comment (it takes the Earth 23h 56m to rotate once, not 24 hours as I originally said)!
---

©2008 Phil Plait. All Rights Reserved.
This page last modified
THE BIRDCAGE: ARCHIVE OF OTHER BAD NEWS ITEMS
<!- END GOOGLE ADSENSE-->
---