RELATED SITES
-
-
-
-
-
-
---
Buy My Stuff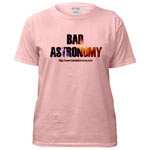 Keep Bad Astronomy close to your heart, and help make me filthy rich. Hey, it's either this or one of those really irritating PayPal donation buttons here.
---
---
Outside the Milky Way
July, 1998:
This bit of Bad news actually happened a few weeks ago, but I am only now getting the chance to put it up. A few weeks ago, some French astronomers found some planets orbiting nearby stars, adding these planets to the dozen or so found so far. The planets orbit stars that are pretty close to Earth on the scale of things. Unfortunately, that fact escaped the realization of whoever wrote the headline for an article in the NANDO Times: "Astronomers find two planets outside Milky Way' '. This is classic Bad Astronomy; confusing our solar system with the galaxy in which it resides. They go on to say that "one planet rotates around the star 14 Herculis..." They mean "revolves". Rotation is spinning on an axis, and revolving is orbiting something else. I heard that the headline was later fixed (the link above takes you to the old one) but I don't think the text ever was.
---

©2008 Phil Plait. All Rights Reserved.
This page last modified
THE BIRDCAGE: ARCHIVE OF OTHER BAD NEWS ITEMS
<!- END GOOGLE ADSENSE-->
---