RELATED SITES
-
-
-
-
-
-
---
Buy My Stuff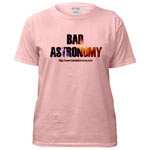 Keep Bad Astronomy close to your heart, and help make me filthy rich. Hey, it's either this or one of those really irritating PayPal donation buttons here.
---
---
Light Years Away...
September 29, 1998: Another news flash from CNN: in an article about a star with a very powerful magnetic field, the following paragraph appears: "The object, in our own Milky Way galaxy, is about 15,000 light-years away, a light-year being the time it takes light to reach us at a speed of 186,000 miles (300,000 km) a second. "

It sounds like the reporter got something confused somewhere down the line. As regular readers know, a light year is defined as the distance light travels in one year. The reporter got the speeds right, but left off the part about distance traveled in a year. Oops!

Thanks to Bad Reader Bryan Teague for sending this one along!
---

©2008 Phil Plait. All Rights Reserved.
This page last modified
THE BIRDCAGE: ARCHIVE OF OTHER BAD NEWS ITEMS
<!- END GOOGLE ADSENSE-->
---