RELATED SITES
-
-
-
-
-
-
---
Buy My Stuff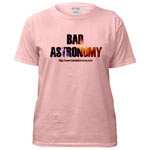 Keep Bad Astronomy close to your heart, and help make me filthy rich. Hey, it's either this or one of those really irritating PayPal donation buttons here.
---
---
Lunar Ellipse!!
There was a lunar eclipse for the United States in the Fall of 1996. I heard a local Washington D.C. reporter refer to it as the "lunar ellipse". Perhaps it could only be seen from the White House?

For those not local to DC, there is a section of downtown DC called the Ellipse, where the White House sits. The National Christmas Tree is set up there every year.
---

©2008 Phil Plait. All Rights Reserved.
This page last modified
THE BIRDCAGE: ARCHIVE OF OTHER BAD NEWS ITEMS
<!- END GOOGLE ADSENSE-->
---