RELATED SITES
-
-
-
-
-
-
---
Buy My Stuff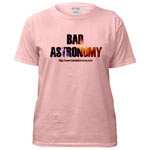 Keep Bad Astronomy close to your heart, and help make me filthy rich. Hey, it's either this or one of those really irritating PayPal donation buttons here.
---
---
Matt Lauer
In September of 1995 I was watching the NBC program "Today". They do a short wrap-up of the daily news happenings, and this particular morning they were talking about the Space Shuttle . Matt Lauer, the news reader was saying how the Shuttle was carrying a large piece of metal called a Wake Shield, which creates a very high grade vacuum behind it as it moves through space. This vacuum can be used to make much better semi-conductors. This concept is not exactly rocket science (haha).

After Mr. Lauer had finished, he, Katie Couric and Bryant Gumble all laughed at how hard the copy was to read, and how all three of them, three of NBC's top reporters, had no idea what Mr. Lauer had just said.

Ignoring for the moment the lack of journalistic professionalism in that display for just a moment, I was appalled that three of NBC's reporters would joke over their ignorance of a subject, especially a scientific one.

Imagine for a moment that the report had been about a U. N. bombing of Bosnia, and they had joked about not knowing where Bosnia was. Any viewer would think that the journalists were bozos for not understanding the news they read. Why should we hold them to a different standard when it comes to science news?
---

©2008 Phil Plait. All Rights Reserved.
This page last modified
THE BIRDCAGE: ARCHIVE OF OTHER BAD NEWS ITEMS
<!- END GOOGLE ADSENSE-->
---