RELATED SITES
-
-
-
-
-
-
---
Buy My Stuff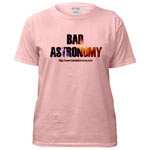 Keep Bad Astronomy close to your heart, and help make me filthy rich. Hey, it's either this or one of those really irritating PayPal donation buttons here.
---
---
The CNN Universe
(April 18, 1997)
This one comes from the usually good people at CNN. On their very well done Science and Technology Web page, they talk about comets possibly bringing the ingredients for life to Earth. In the article, CNN correspondent Don Knapp says,

"Today, comet sightings such as Hale-Bopp and Halley are rare. That's because, through the ages, the planets themselves attracted most of the comets in the universe, leaving but a few to roam loose through the skies."

Sigh. This is a classic case of mistaking "universe" for "solar system", which I expect from a TV science fiction show, but not CNN. It seems silly to email them over such a small error, but things like this keep on happening. Maybe I need to set up a form letter to send to news organizations!

Thanks to Bad Reader Jeremy Buhler for bringing this to my attention.
---

©2008 Phil Plait. All Rights Reserved.
This page last modified
THE BIRDCAGE: ARCHIVE OF OTHER BAD NEWS ITEMS
<!- END GOOGLE ADSENSE-->
---