RELATED SITES
-
-
-
-
-
-
---
Buy My Stuff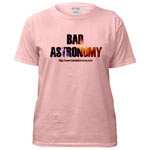 Keep Bad Astronomy close to your heart, and help make me filthy rich. Hey, it's either this or one of those really irritating PayPal donation buttons here.
---
---
Through Hubble's Lens
October 9, 1998:
My office was abuzz yesterday about new images taken by the Hubble Space Telescope (HST). These are infrared versions of the Hubble Deep Field which was taken a couple of years back. The new images show extremely distant galaxies, and will teach us quite a bit about what the Universe was like when it was young. This was reported all over the web, and you can read about the story at the CNN website, but I warn you, you'll see this paragraph:

For 10 straight days, Hubble stared at a relatively unpopulated region of deep space, allowing unimaginably faint starlight to collect on the telescope's electronic lens.

Aarrg! HST has no lenses! It uses mirrors to collect and focus light. The reporter was trying to make a semi-poetic analogy, but it doesn't really work. A lens isn't electronic. The detector the instrument uses is just like the ones in a household camcorder; an electronic computer chip that is sensitive to light. Alert Bad Readers may remember that it was CNN that made this same mistake before. Thanks to Bad Reader Juanito Diaz for sending this one to me!
---

©2008 Phil Plait. All Rights Reserved.
This page last modified
THE BIRDCAGE: ARCHIVE OF OTHER BAD NEWS ITEMS
<!- END GOOGLE ADSENSE-->
---