RELATED SITES
-
-
-
-
-
-
---
Buy My Stuff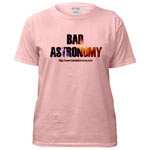 Keep Bad Astronomy close to your heart, and help make me filthy rich. Hey, it's either this or one of those really irritating PayPal donation buttons here.
---
---
Dancing with Asteroids
(June 14, 1997)
New calculations of the orbit of an asteroid (designated "3753") show that it is performing a complicated gravitational dance with the Earth, causing it to alternately speed up and slow down in its orbit ( my Bitesized Astronomy page has a more detailed description of the situation). Briefly, the Earth's gravity alternately slows down and speeds up the asteroid in its orbit around the Sun. CNN's Science and Technology Week described this as the Earth's gravity alternately "attracting and repelling" the tiny asteroid. I don't know if they were quoting their source, or if they had written their own copy, but this is incorrect. Gravity can only attract. However, under certain circumstances, gravity can indirectly move an object further away. This is fundamentally different than repulsion, which implies a direct thrust away using only gravity. This is a relatively small nitpick, but represents sloppy definitions of words, and it doesn't help people to understand why this object behaves the way it does.

Incidentally, you can get a lot more info about 3753 from the people that figured out its orbit!
---

©2008 Phil Plait. All Rights Reserved.
This page last modified
THE BIRDCAGE: ARCHIVE OF OTHER BAD NEWS ITEMS
<!- END GOOGLE ADSENSE-->
---