RELATED SITES
-
-
-
-
-
-
---
Buy My Stuff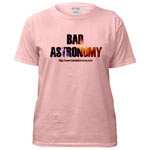 Keep Bad Astronomy close to your heart, and help make me filthy rich. Hey, it's either this or one of those really irritating PayPal donation buttons here.
---
---
A Tiny Black Hole?
(May 13, 1997)
Yesterday, new images from the Hubble Space Telescope were released to the press. One of these observations was of a supermassive black hole in the center of an elliptical galaxy. The instrument used, called STIS (for Space Telescope Imaging Spectrograph), is able to take very high-quality spectra of these black holes which in turn can be used to determine the mass of the black hole. In this case, the mass was found to be about 300 million times the mass of the Sun. On CNN Headline News yesterday, this mass was said to be "300 times the size of the Sun". Oops! Well, what's a factor of a million between friends? To be fair, though, the CNN Sci-Tech web site has the correct number listed.
---

©2008 Phil Plait. All Rights Reserved.
This page last modified