RELATED SITES
-
-
-
-
-
-
---
Buy My Stuff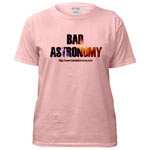 Keep Bad Astronomy close to your heart, and help make me filthy rich. Hey, it's either this or one of those really irritating PayPal donation buttons here.
---
---
Bad Science
July 15, 1998

Usually this is where I point out mistakes by the press, but this tidbit really is literally bad news: a survey sponsored by the National Science Foundation showed that although nearly 80% of people in the U.S think that science research is important, 27% of adults surveyed believe that the sun goes around the earth, and more than half believe atoms are smaller than electrons. Oh boy. I also heard, but do not have the exact number, that a large fraction of those that did know that the Earth revolved the Sun did not know how long it took. Evidently not enough people read this web site! ;-)
---

©2008 Phil Plait. All Rights Reserved.
This page last modified
THE BIRDCAGE: ARCHIVE OF OTHER BAD NEWS ITEMS
<!- END GOOGLE ADSENSE-->
---