RELATED SITES
-
-
-
-
-
-
---
Buy My Stuff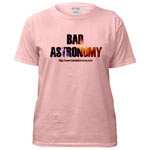 Keep Bad Astronomy close to your heart, and help make me filthy rich. Hey, it's either this or one of those really irritating PayPal donation buttons here.
---
---
Alan Shepard
July 23, 1998
Sometimes Bad News is international. Sadly, Alan Shepard, the first American astronaut to go into space, died on July 22. In Germany, the television channel VOX reported that Shepard was the "first man that flew into space". Actually, he was the second. 23 days earlier, Russian Cosmonaut Yuri Gagarin was the first man in space. If this were an American broadcast I wouldn't be surprised, since we sometimes seem to have a U.S.-centric view of things. But this was Germany! My thanks to Bad Reader Nils Jeppe for bringing this to my attention. Did any other Deutschlanders see this broadcast and can confirm this?
---

©2008 Phil Plait. All Rights Reserved.
This page last modified
THE BIRDCAGE: ARCHIVE OF OTHER BAD NEWS ITEMS
<!- END GOOGLE ADSENSE-->
---