RELATED SITES
-
-
-
-
-
-
---
Buy My Stuff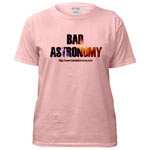 Keep Bad Astronomy close to your heart, and help make me filthy rich. Hey, it's either this or one of those really irritating PayPal donation buttons here.
---
---
Review: The Core
"The Core" is a movie that brushes against some astronomical subjects, given that the Earth is a planet and planets are astronomical objects. Kind of.
Okay, reviewing this movie is a stretch, but a small one. There's lots of science in the movie, which means there must be lots of bad science too. And there is.
FIND OUT IN MY SPOILERS REVIEW OF "THE CORE"
This page last modified
<!- END GOOGLE ADSENSE-->
---
---