RELATED SITES
-
-
-
-
-
-
---
Buy My Stuff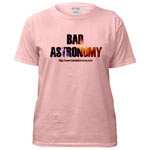 Keep Bad Astronomy close to your heart, and help make me filthy rich. Hey, it's either this or one of those really irritating PayPal donation buttons here.
---
---
Review: MISSION TO MARS
Mars is the darling planet of Hollywood these days. Sure, most movies are filmed with plots about things happening on Earth, but Mars is the up-and-coming planet. Touchstone Picture's ``Mission to Mars'' is only the first of several Mars movies due to come out in the next year or two.
Let's hope the others are good.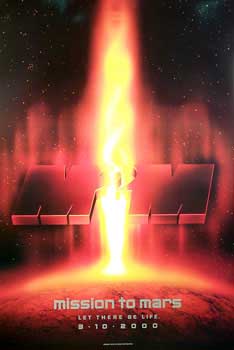 Oops! I've spilled it! Well, I'll come clean now and say that I absolutely hated this movie. If this weren't a family friendly website I'd use somewhat stronger language, but for now I'll leave it at: yuck. The writing was poor, the acting poor (and I expect better from such a good cast), the music was atrocious and the ending... well, I'll get to that.
As much as I disliked the movie, there actually wasn't that much astronomically wrong with it. Sure, there were the usual problems of sounds in space, seeing stars out windows and the fact that, to Hollywood, orbital mechanics is a lot like driving on a freeway (of course, compared to L.A. traffic, orbits are easy). But the other problems were not so much astronomical as they were in physics, biology and chemistry.
Still, some of these disciplines test their toes in the warm waters of astronomy, so I think there's enough to cover. As with all movies that are still in the theaters when I write the review, I'll keep my comments to a spoiler page. By reading my review, key plot elements (thin as they are from this flick) will be revealed. Enter at your own risk!
CLICK HERE TO GO TO MY REVIEW OF "MISSION TO MARS"
This page last modified
<!- END GOOGLE ADSENSE-->
---
---